Analysing BMRCL's Report on Introducing Bike Taxis in Bengaluru
August 25, 2023 Vaidya R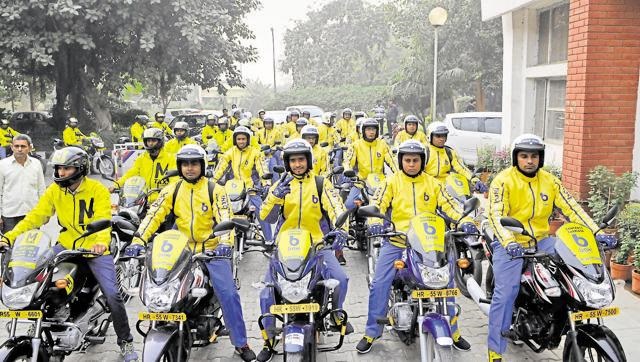 In 2018, Bengaluru Metro Rail Corporation Limited (BMRCL) was tasked by the Government of Karnataka to evaluate bike taxis as a possible public/shared transport. Basically, the report set out to ask the question – should bike taxis be legalised in Bengaluru? The report was submitted in 2019 and this is what it had to say.
Bikes as a form of public transport
The report starts with an analysis of the different types of public/shared transport offered by bikes and sought to draw lines between them. It noted the three ways in which bikes work as public transport.
Bike sharing or bike rentals: This is a self-drive service offered by operators like Bounce and Vogo where bikes are available at different locations and people can rent them at a rate of Rs. 3-5 per km for a while.
Bike taxis: This is a service where a bike operated by a driver picks a commuter up and drops them at their destination.
Bike pooling: This is a service similar to carpooling but with bikes. People with bikes pick up and drop people off based on their direction of travel and get paid for it.
With bike taxis, it could work in an aggregator model, where the bikes are owned by the drivers who make their bikes and their service as drivers available through an online platform. The other model is the fleet owner model, where bikes are owned by a company and drivers hired by the company to operate them.
Legally, bike rentals have been permitted in Karnataka through the Rent of a Motor Cycle Scheme, 1997 which was notified by the central government using section 75 of the Motor Vehicles Act (MVA) 1988. Under this scheme, operators may rent out motorcycles for personal use to individuals. Operators, with a minimum of five vehicles, can obtain five-year licenses from the local RTO for running the business.
As of 2018 there were 28 bike rental companies operating in Bengaluru. Drivezy, Bounce and Vogo are the commonly recognized brands in the business.
Bike Taxis: Legalities and Usage
While bike taxis are yet to catch up in India, they are common in Southeast Asian and African countries. The biggest name in the business, Grab, operates in 191 cities across 8 countries including Thailand, Malaysia, Indonesia and Philippines.
Interestingly, bike taxis are permitted by Central Government rules. Rent a Motor Cycle Scheme, 1997 and S.O. 1248 (E) which categorises vehicles for registrations allow two-wheelers to be registered as transport vehicles and operated as taxis. Despite this, many states have not considered bikes as a category to award contract carriage permits. Goa has been the exception and their Motor Vehicles Rules, 1991 explicitly mention motor cycles.
The Ministry of Road Transport and Highways (MoRTH's) Taxi Policy Guidelines 2016 recommended that states may allow two-wheeler taxi permits on lines similar to car taxis. Based on this, Haryana, Mizoram, West Bengal, Uttar Pradesh, Rajasthan and Punjab have notified rules allowing bike taxis.
Rules in these states specify that motorcycles need to be registered as taxis with yellow plate and black lettering. This rule is apart from rental bikes which have black license plates and yellow numbering. The governments have also notified the fare structure, vehicle specifications, driver uniforms, parking requirements and minimum fleet size for aggregators. However, the rules are not uniform with an absence of standards and wide variation in rules across states.
In states where bike taxies are not permitted, operators are seen to be running a peer-to-peer service which is considered illegal as the vehicles are non-transport without permits. Such peer-to-peer ride sharing is not permitted as per Section 66 of the MVA, which disallows usage of private vehicles as transport vehicles. This is the current situation in Bengaluru where bike taxis are disallowed but are still running illegally with the help of app-based aggregators.
Bike Taxis: A SWOT Analysis
The report does a SWOT (Strengths-Weaknesses-Opportunities-Threats) analysis of bike taxis and lists them.
Strengths
The main value adds from bike taxis are the following:
Lower fares: Among non-mass public transport options, they can offer the cheapest rates at Rs. 8 per km.

Less time taken: While the report does not quote any studies to justify it, it goes by perception that bikes are faster than other modes. But the report highlights how this gain in time comes at the cost of safety as it is achieved by flouting traffic rules, reckless driving, lack of lane discipline, driving on footpaths etc.
Access to narrow roads: Areas with narrow roads tend to have poor bus connectivity and bike taxis can help there.
Weaknesses
The main weaknesses identified by the report are:
Poor road usage efficiency: Even though the Passenger Car Unit(PCU) of a two-wheeler carrying two people is calculated as 0.38 on congested roads, it will need to be seen as 0.75 as only one person in the vehicle is going to their destination. This is worse than a car carrying two passengers. Bike taxis are thus seen to use precious road space in the most inefficient manner.
Low capacity: Bike taxis have an inherent disadvantage that only one person gets to travel. This makes the number of passenger kilometres they travel per vehicle kilometre very poor. It also needs to be considered that they will take up a large amount of precious parking space when the vehicles are not in use.
Safety and security: This is one of the most important issues with road taxis identified by the report. Two-wheelers are inherently unsafe and form the largest share of road accidents and fatalities in India. Security of women and children is an also important issue and recent news reports point to the challenges in ensuring security for women passengers.
Reckless driving adds an another dimension to the problem, especially with drivers incentivised to complete more trips to earn more money by the app operators.
Dead Kilometres: When not transporting passengers, these vehicles tend to add what are called "dead kilometres" which add to the congestion in the city and pollution.
Low additional utility: Considering point 3 about safety and security, bike taxis are not of much utility to large sections of the population – women, children, the elderly and disabled are poorly served by bike taxis.
Opportunities
The main opportunities offered by bike taxis as per the report are:
Vehicle ownership suppression: availability of shared mobility can dissuade or delay the purchase of vehicles by individuals and households, which can slow down the growth of private two-wheelers and car registration/ownership. The report notes that the gain could be limited. From a mobility perspective, usage of a motorized vehicle or the vehicle kept idle is the relevant factor instead of just the ownership of vehicles.
Last-mile connectivity: This is the main use case cited for bike taxis in most cities: short hauls from the nearest bus or metro station, as seen in cities like Gurugram. The report notes that for last-mile connectivity Non-motorized transport(NMT) should be the goal, and recommends development of NMT infrastructure in the form of Tender-Sure roads.
Threats
The main threats to the city's infrastructure from bike taxis, as identified by the report, are:
Promoting shift from public transport: As shown by many studies, bike taxis can prompt a greater shift away from public transport which can have deleterious effects on the city in the form of congestion, pollution etc. In fact, even ads of operators like Rapido show people walking away from buses to use bike taxis.
More vehicles on the road: Global studies have shown that access to on-demand services induces urban residents to make trips they might not have made, or used NMT instead. This could end up adding more vehicles on the road, contributing to congestion and pollution.
Vehicle ownership: As per the report, the attractive livelihood opportunity provided by bike taxis could lead to a glut of vehicle registrations. This was already seen with cabs where Ola and Uber increased the number of cars on the road.
Unregulated parking and roadway obstruction: Poor parking enforcement and regulations, like in Bengaluru, could lead to usage of road space for parking these vehicles when not in use. This contributes to congestion by reducing RoW.
Higher emissions: Bike taxis would trigger a shift away from sustainable public transport and from NMT, while adding more vehicles which are usually older, with lower emission standards, contributing to more pollution.
Discourage NMT: Studies have shown in other cities how bike taxis affect the shit to NMT. The report notes that Bengaluru's focus is on improving cycle share systems and better pedestrian networks, and bike taxis could adversely affect usage of these systems.
Conclusions and recommendations of the report
The report notes that Bengaluru has multiple modes of shared transport – BMTC/BMRCL, auto-rickshaws and now bike-rentals. The City is now developing shared cycling systems and better pedestrian infrastructure to shift people to non-motorised transport. In this scenario the negatives of bike taxis overshadow the positives. The main negative factor working against it is the highly inefficient usage of road infrastructure and low capacity served in return.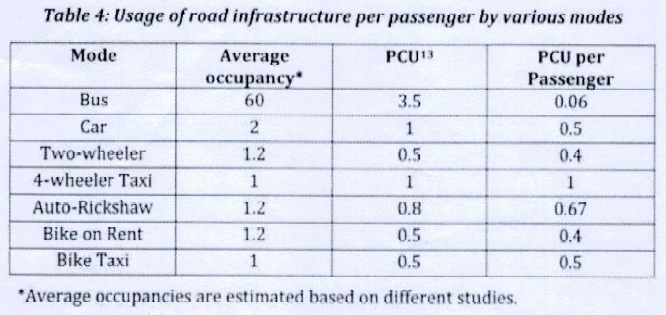 It was also noted that existing bike rental systems provide the same benefit as bike taxis with lower costs. They do this without adding dead kms, and are safer as there is no incentive to speed to maximise the number of trips. Supply is also regulated by demand, with less chance of oversupply.
At the same time, efforts are being made to limit the number of auto-rickshaws and cabs by reducing permits. In this scenario adding one more mode will also be resisted by cabs and auto-rickshaw drivers and unions.
The report notes that other cities where it works have less traffic and congestion than Bangalore, and are smaller tier-2 cities. Except for Hyderabad, bike taxis are not operational in any other tier-1 cities, the report notes.
The report concludes that bike taxis are unproven and also inappropriate for Bengaluru and large Indian cities in general. They do not provide a necessary service in a city with multiple modes of transport, while aggravating existing issues like congestion and pollution. The report recommends that bike taxis not be allowed and any existing operation ceased.
Instead it recommends investment in NMT like cycles and better pedestrian infrastructure for last-mile connectivity. For bike rentals, the report recommended continuing them with several restrictions on how and where to operate so that valuable parking space is not taken up by them.
The report concludes with the following generic recommendations:
Develop a comprehensive mobility plan(CMP) for the city, based on this report and provide a complete picture of the transport ecosystem in the city.
Create an independent authority to oversee all modes of transport and provide it with legislative, fiscal and regulatory powers to oversee the mobility plan implementation. The BMLTA is a step in this direction.
Invest in efficient and sustainable public transport systems.
Implement the CMP which should have a vision for 20 years for transport in the city.
What the report misses
While the emphasis on improving NMT is definitely welcome, for a city of the size of Bengaluru with an estimated population of 15 million, you cannot have enough modes of transport. While the report sees Bengaluru as a large city, better planning can be achieved by seeing the city as a collection of neighbourhoods where people travel either within them or between them for work and leisure.
While the issues addressed by the report are valid, there are solutions that are easily available currently.
Pollution is mentioned as a key factor – this can be addressed by restricting bike taxis to electric bikes. Bike rentals like Bounce have already made the shift for their entire fleet.
Congestion is an important factor which can be addressed by restricting bike taxis to outer areas with poor reach of BMTC and capping the distance they can travel to, say, 5 km. It can be used by delivery operators during peak travel times to augment their income.
Safety is an important concern. As the vehicles are electric, their speed can also be restricted to a safe limit like 40 Kmph. Rating of drivers on the apps also tends to encourage safe driving practices.
Security of women is probably the main concern from bike taxis. One of the ways to improve safety is to encourage more women drivers who can exclusively drive women passengers. This could not only improve security, but also provide valuable income opportunities for women.
While the report mentions sustainable public transport in the form of buses, the fleet size of BMTC has continued to remain the same, despite increase in usage thanks to schemes like free transport for women.
The encouragement of cycles in a report by BMRCL is welcoming. At the same time, despite multiple campaigns, Bengaluru Metro is yet to allow normal cycles in the coaches. Cities like Mumbai and Chennai have been allowing people to bring their own cycles on board.
In a glaring omission, the report mentions Hyderabad as the only major city that allows bike taxis, but does not include or cite any study on how bike taxis are being used by commuters, and whether congestion and pollution have gone up there because of that. Along with bike taxis, other shared transport like share autos have not been able to find a foothold in Bengaluru despite being popular in other cities like Chennai.
The main target of transport systems is the commuting public and they are conspicuously absent in the report. The report mentions meeting with potential bike taxi operators like Bounce, Uber and Ola, but does not mention any study or survey of commuters and their transportation needs.
As the report mentions, there is a strong opposition from existing shared vehicle operators like auto-rickshaws and cabs to introducing more modes of transport. Given the large population of Bengaluru, cabs and auto-rickshaws cannot fill all the gaps in the city between BMTC and the metro. It is important that more modes of transport are explored and allowed, at least on trial basis.