Bengaluru Constituencies Datajam – April 2023
April 03, 2023 Vaidya R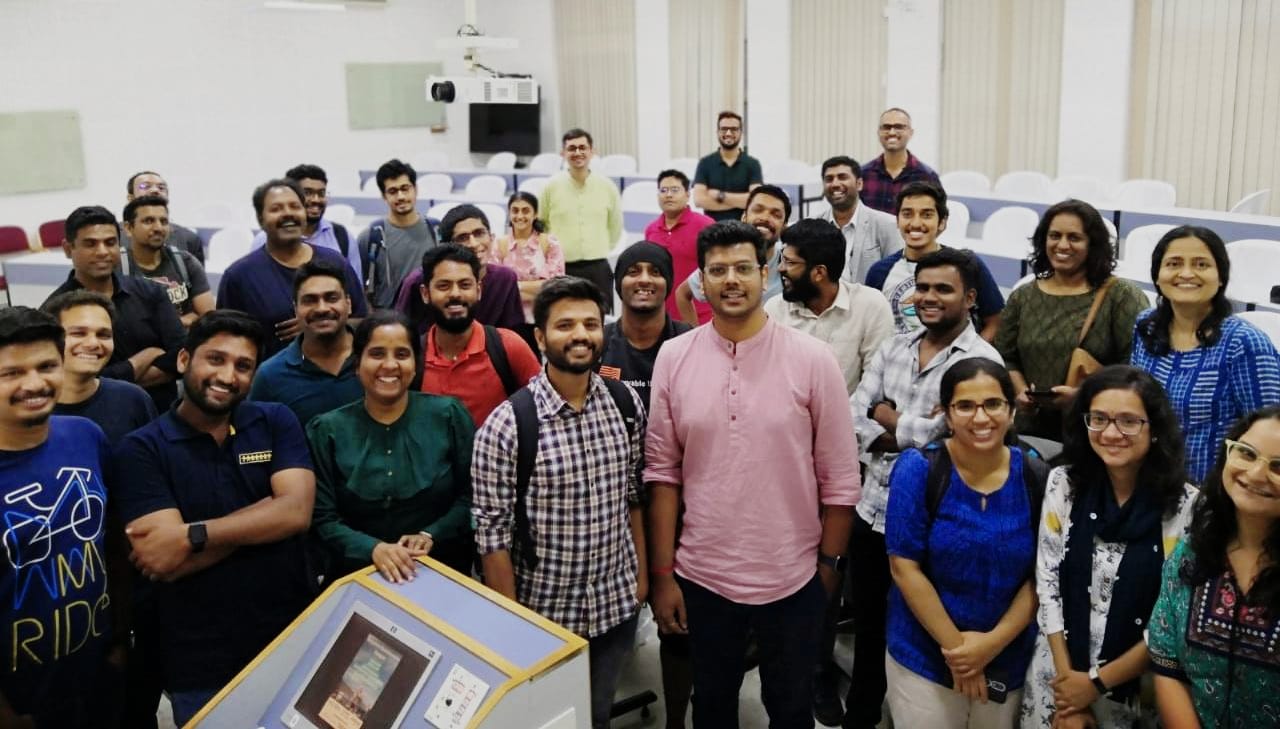 Bengaluru Urban district currently has twenty eight assembly constituencies (ACs) in the Karnataka Legislative Assembly. Can public data be used to analyse, rate and rank how these 28 constituencies are doing in terms of different parameters like health, public transport, education, environment, access to water, economy or civic engagement? Can such an exercise yield outcomes about gaps in different constituencies that can be addressed by their elected representatives? These were the questions the Bengaluru Constituencies Datajam, held on April 1st, 2023 at the Indian Institute of Management – Bangalore's verdant campus on Bannerghatta Road, tried to answer.
World Resources Institute – India and Janaagraha were the knowledge partners for the event, and their researchers and members were present during the event guiding the participants on where to find the data that the teams needed to answer their questions. Gautam Prakash of Reapbenefit was also present at the event helping teams clean up their data.
There were close to 20 participants who were divided into four teams. The participants included a mix of developers, GIS experts, urban designers, data analysts, economists and public health professionals. The teams were formed to ensure a good mix of each of the above skill sets.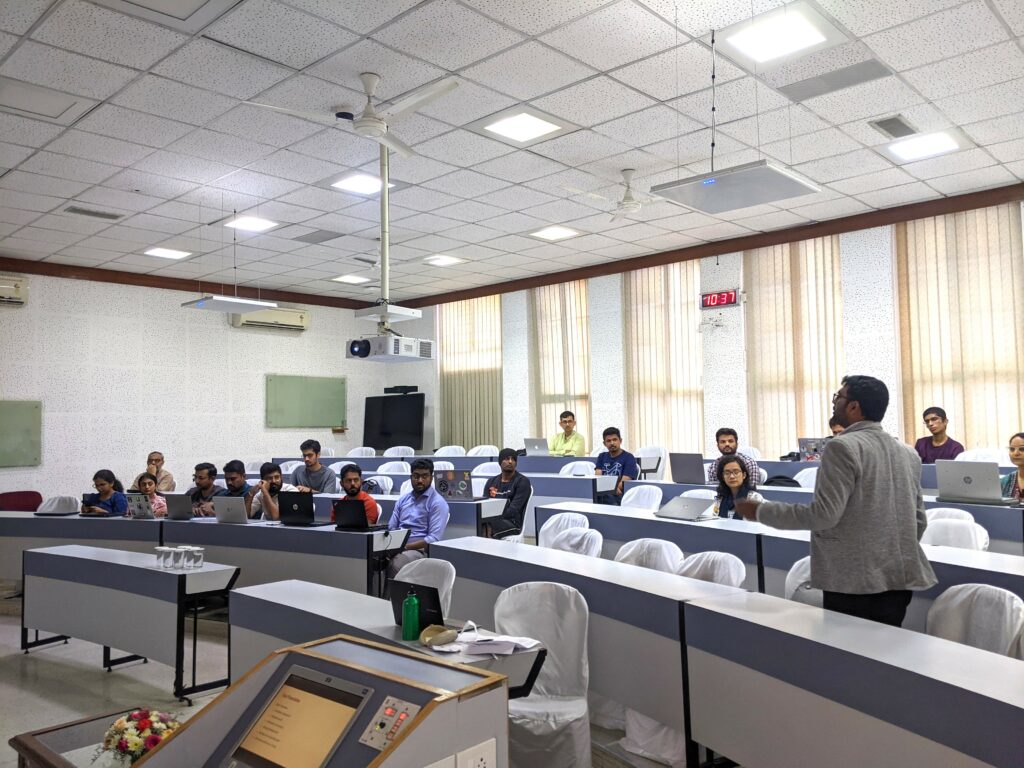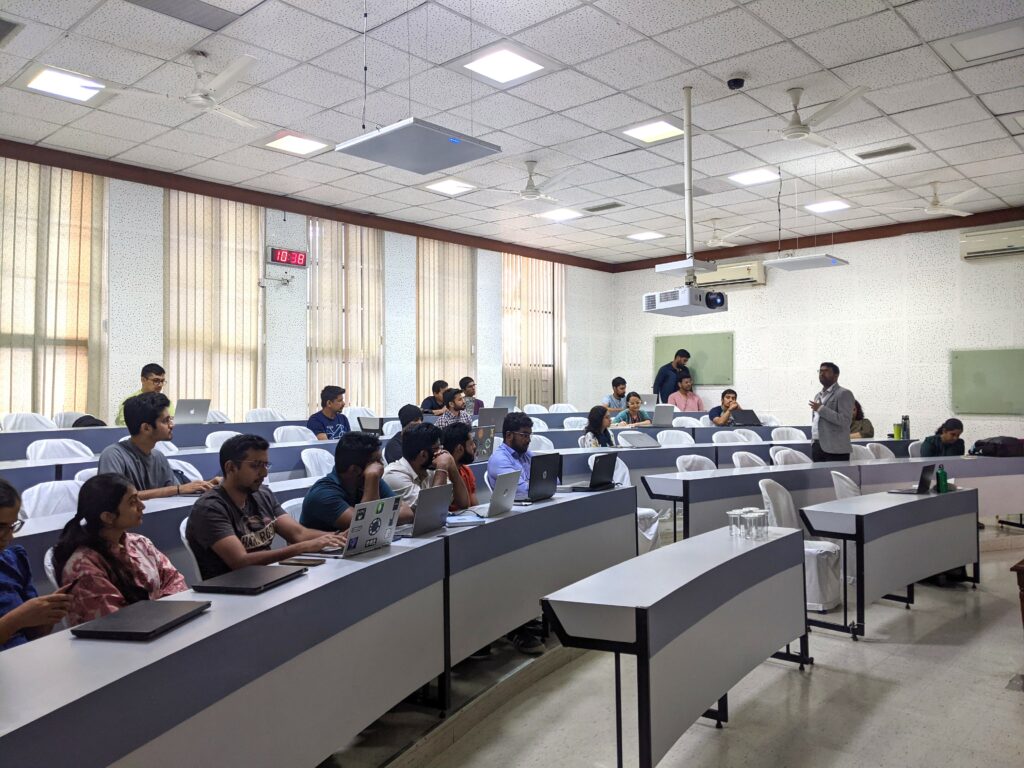 Problem Statements
Unlike in earlier datajams the problem statement was decided in advance by the OpenCity.in team and the knowledge partners. The teams had to evaluate the performance of the 28 ACs in Bengaluru Urban district on any of the following parameters – civic participation, education, economy, environment, governance, health, mobility, public amenities, safety, solid waste management and water supply.
The main tasks for the teams were:
1. Pick a parameter on which to rate the ACs.
2. Come up with a framework on which to evaluate the ACs..
3. Use data to evaluate the ACs on the chosen parameter using their evaluation framework.
The four teams picked the following parameters to evaluate the constituencies on:
Team 1: School education.
Team 2: Health vulnerability of populations
Team 3: Civic participation among citizens
Team 4: Mobility, more specifically, access to public transport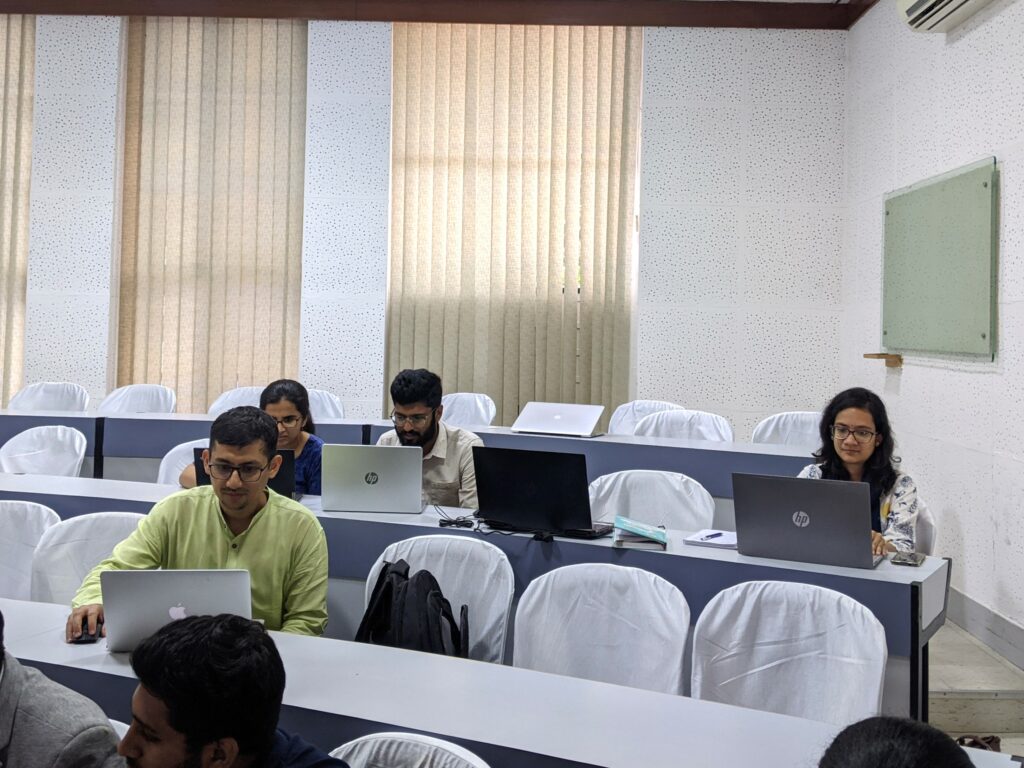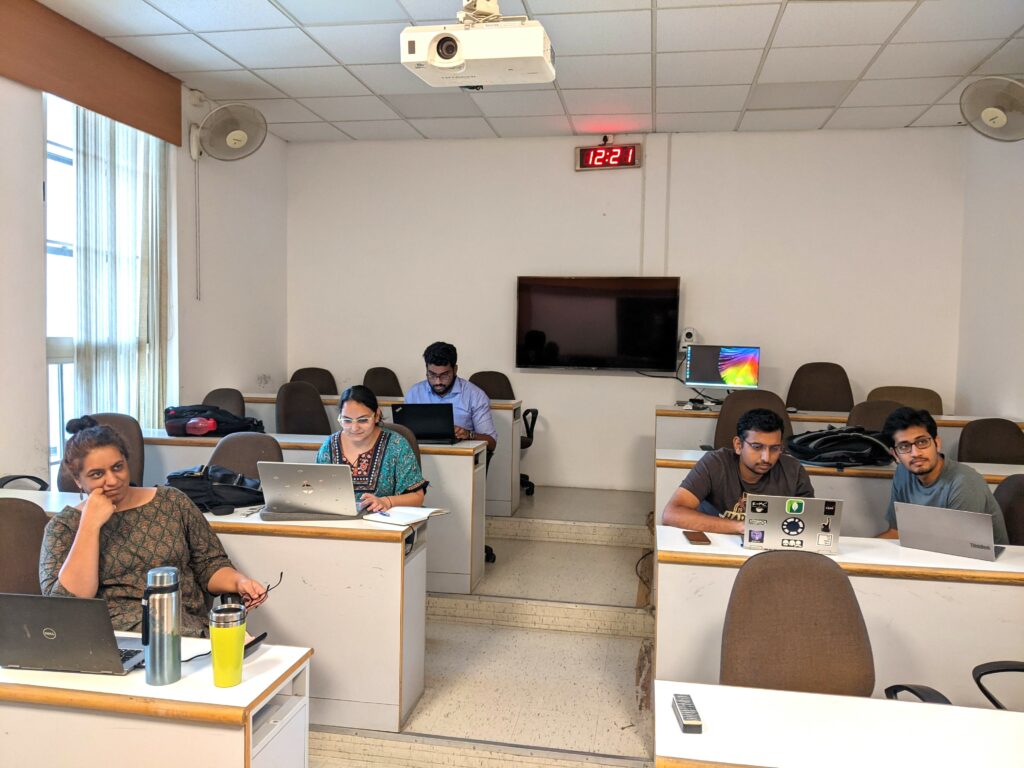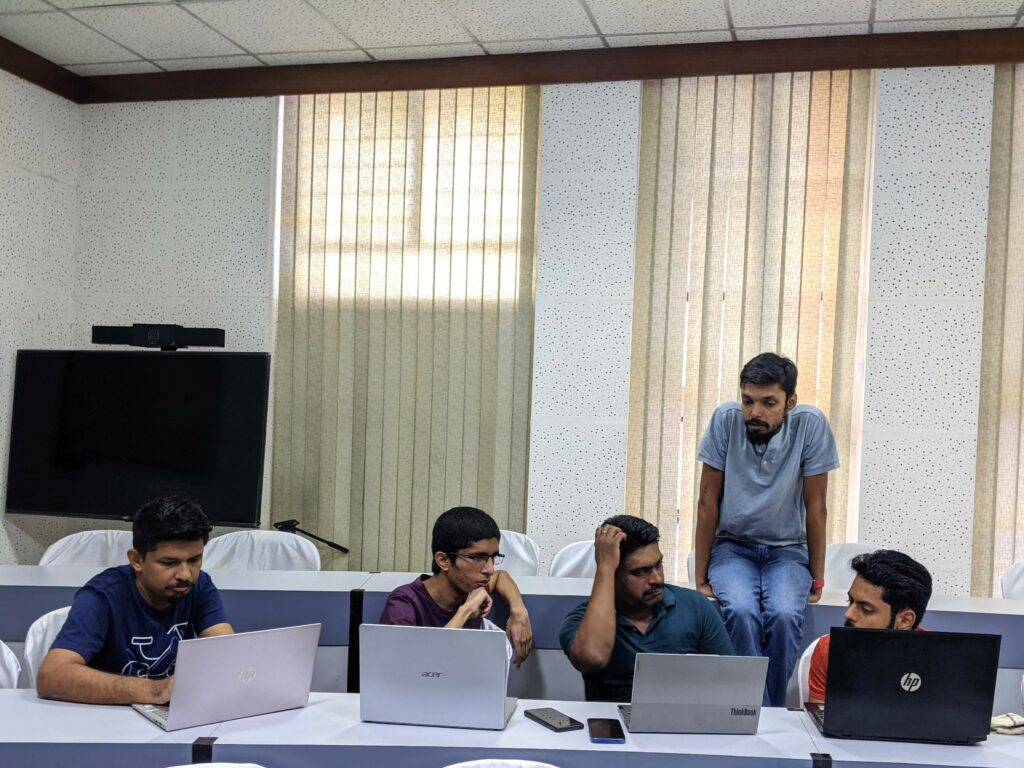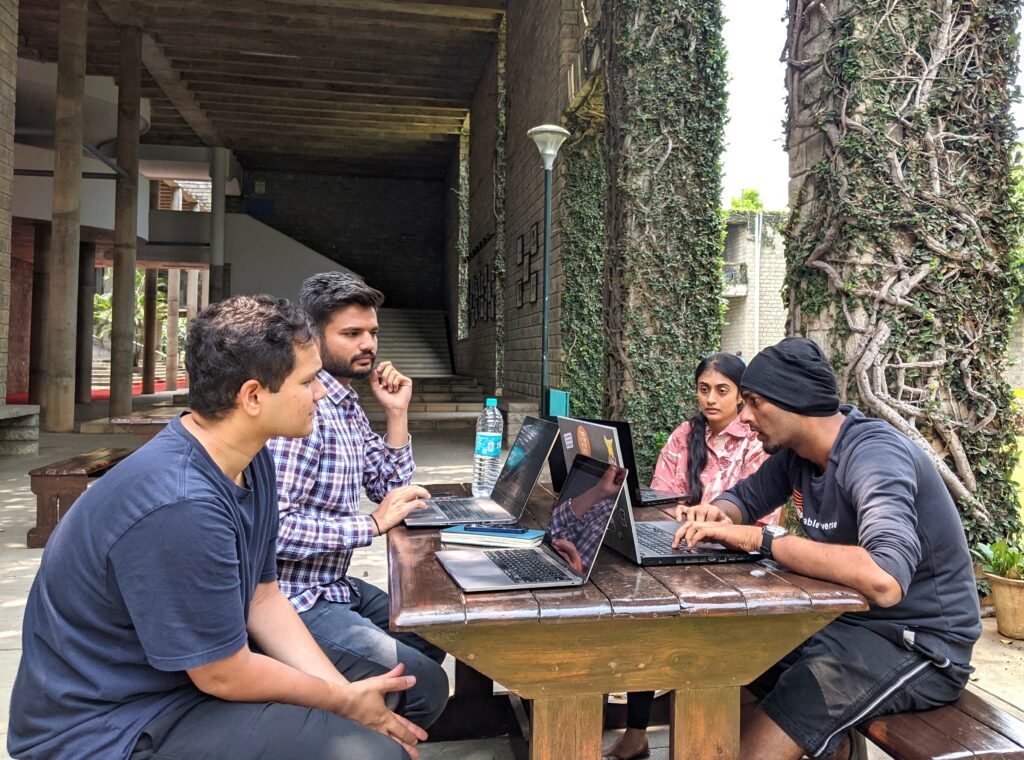 Outputs
School Education
Adhesh Sagar, Anshu Darbari, Kanish Debnath, Nikita Deshpande and Nikhilesh of Team 1, set out to answer the question about school education, and how access to it varies across the 28 ACs. More specifically, they posed the following question: How many students are there per constituency population, and how are the schools doing in each constituency when it comes to staff and facilities?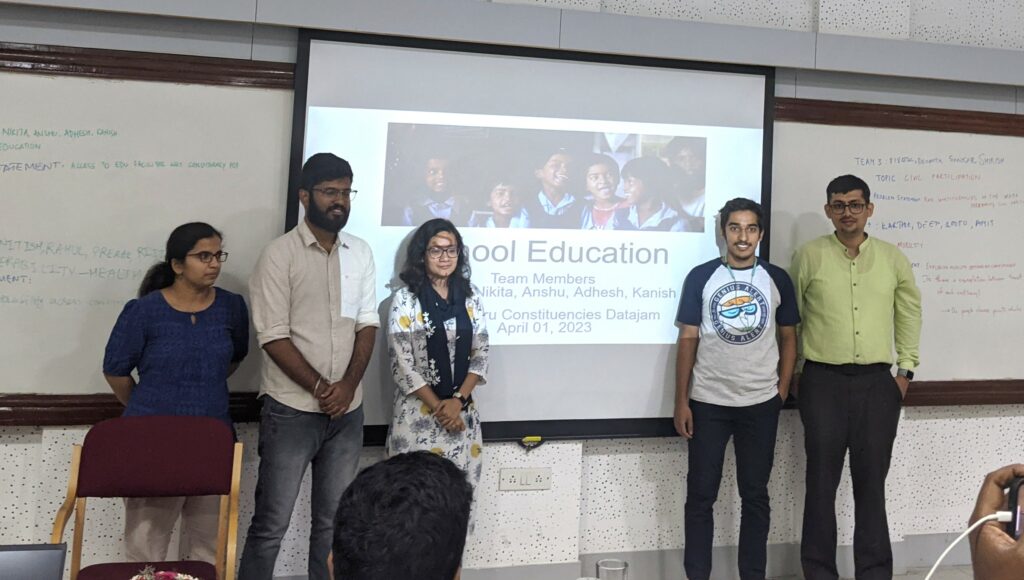 For this, they looked at data of all the schools on OpenCity.in to get the constituency of schools, and correlated that with data from the database of Unified District Information System For Education (UDISE), Ministry of Education, Government of India.
They considered the following indicators to rate the schools:
Pupil-Teacher Ratio(PTR): The baseline used was that provided by the Ministry of Human Resources Development (MoHRD) in 2021-22: 24:1 (one teacher for 24 students) for elementary schools (1st to 5th standard) and 27:1 for secondary schools (6th to 12th standard).
Gender-sensitive amenities: Schools within walking distance, access to electricity, water, toilets, specifically toilets for girls.
Mapping Health Vulnerabilities Across Constituencies
Nitish Kumar, Prerak Shah, Rahul Muraleedharan, Riddhi Lakhiani and Shreya Pillai of Team 2 wanted to analyse the health vulnerabilities of populations in the 28 ACs. For this they looked at the population in the different constituencies and their access to primary and tertiary healthcare in the form of Namma Clinics, primary healthcare centers and hospitals.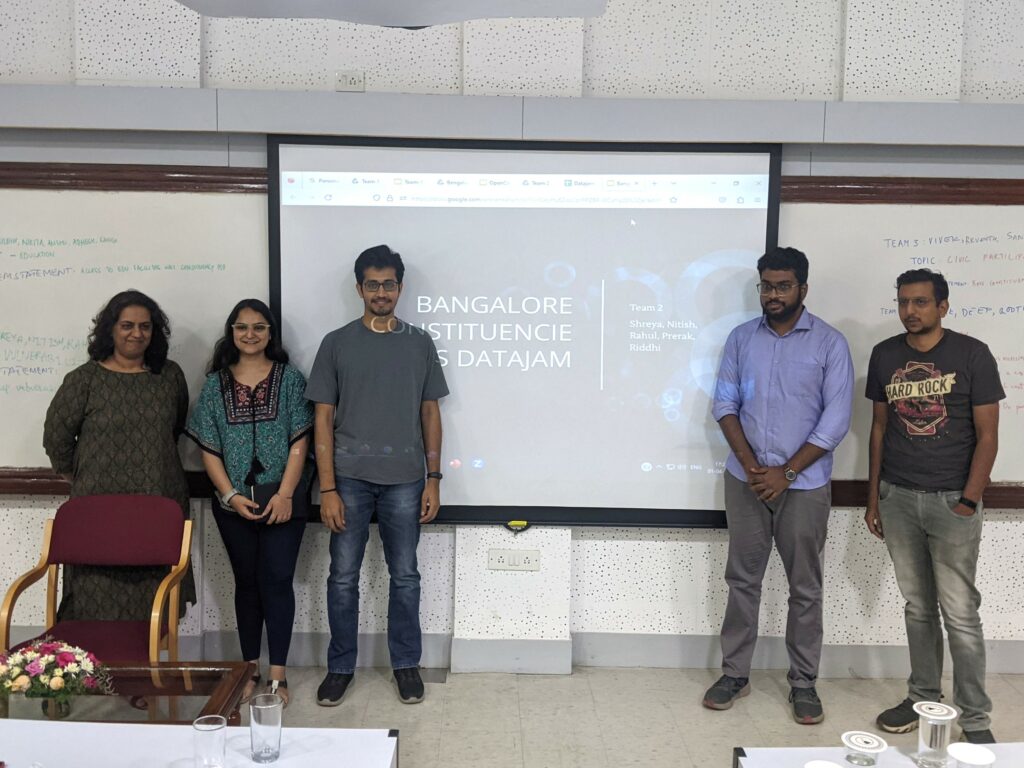 They used data about number of voters registered in the constituencies as a proxy for the population of the constituencies. Along with area of the constituencies this gave an indicator of the density as well as gender. This gave them an indicator which they called the "social determinant".
They used maps of namma clinics, UPHCs and BBMP referral hospitals on OpenCity.in to map the access to healthcare across the constituencies. They came up with an indicator based on this called the "health infrastructure". With these indicators, they evaluated the constituencies giving a weightage of 25% to social determinants and 75% to health infrastructure.
Civic Engagement
Haji Rehmathullah Sheriff, Revanth, Sankar, Shirish and Vivek Mathew of Team 3 tried to rate constituencies based on the civic engagement of the population. Unlike the other teams, here the emphasis was on looking at how engaged the citizens of each constituency were with the governance. They also wondered how to get more citizens engaged in matters that impact them in so many ways.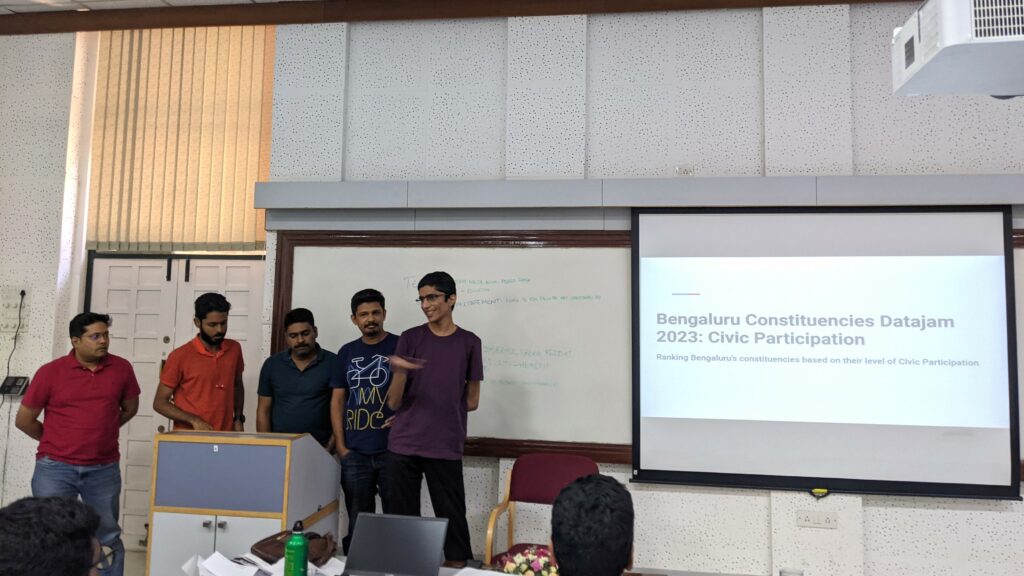 To answer this question, they looked at different data like voter turnouts in the last couple of assembly elections, number of ward committee meetings held by BBMP in the wards, issues being reported to the BBMP, and issues reported through Janaagraha's IChangeMyCity portal.
With this data they evaluated the constituencies on 5 metrics, which were weighted in importance as below:
Voter turnout – 2018 elections. This had the highest weightage.
Voter turnout – 2013 elections.
Number of ward committee meetings held
iChangeMyCity complaints.
BBMP complaints. This had the lowest weightage.
Mobility – Access to Public Transport
Amit Chavada, Deep Chaitanya, Karthik D and Rootu Patel of Team 4 looked at access to public transport and how it varies across constituencies. For this, they looked at public transport in terms of access to buses and metro.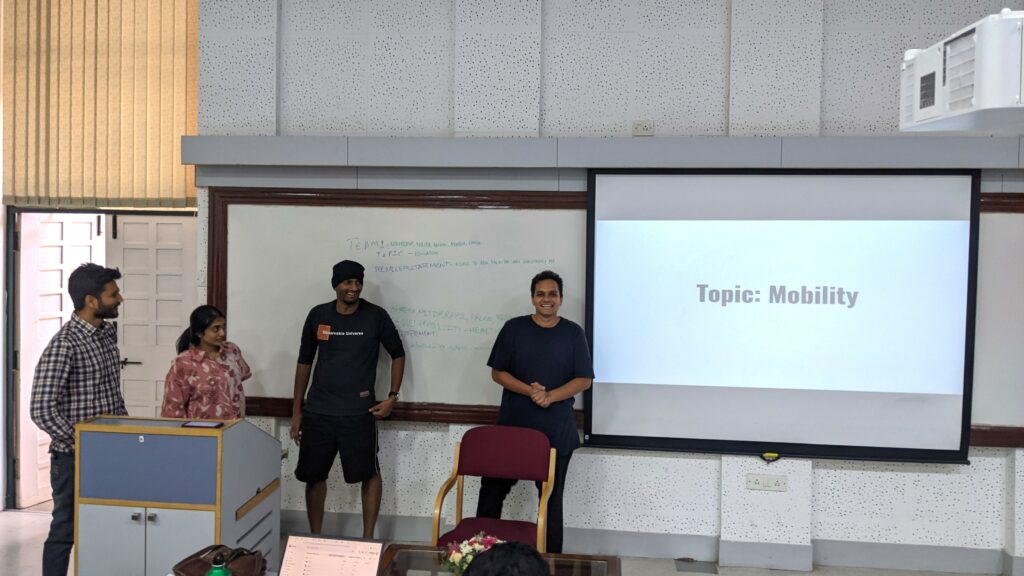 They looked at voter numbers across constituencies as a proxy for the population, bus stops data from OpenCity.in, and metro stops data from themetrorailguy.com. With this they evaluated the ACs based on the number of metro stops per constituency and the number of bus stops by area.
Key Takeaways
Given the short duration of a few hours to come up with a problem statement, find data, analyse the datasets and come up with findings, it was felt that having a narrower focus on problem statement would help. Knowing that you had to evaluate constituencies, and having to just pick your parameter made things easier for the participating teams to pick a question and spend more time working on the data.
According to Srinivas Alavilli of WRI, "when young people come together to use their skills to analyse publicly available data and provide insights for citizens to make informed decisions, everyone wins. Today's data-jam is yet another proof that Bengaluru has passionate citizens willing to go extra mile, spend precious time and energy to better understand their own city and governance gaps in health, education, mobility and civic participation"
Manjunatha Hampapura L, Program Manager, Civic participation (Karnataka), Janaagraha emphasised that "civic data is important in governance to promote transparency". "Janaagraha is proud to be part of this datajam that brought great young minds to analyze civic data. The enthusiastic participation is reflected in the analysis and presentations made," he added.
Meera K, of OpenCity.in felt that "such analyses will help elected representatives and officials understand the gaps, and citizens to prioritise demands."
Riddhi Lakhiani, one of the participants, with background in legal and policy research focused on persons with disability, said that "often we are told there is no data available when we discuss policy reforms, today's datajam is a great beginning to bridge that data gap."