What does the rainfall data from KSNDMC say about Bengaluru rainfall patterns?
October 21, 2022 Vaidya R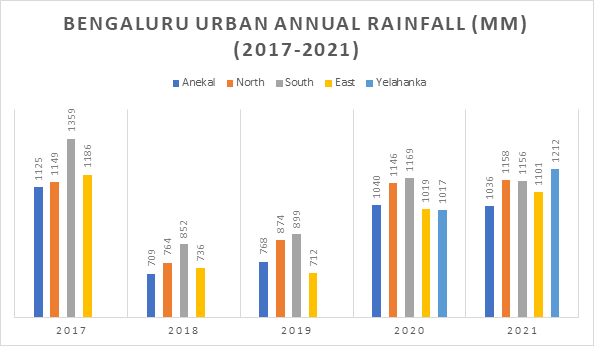 The Karnataka State Natural Disaster Management Centre (KSNDMC) has deployed a large network of Automated Weather Stations(AWSes) across the state as well as in Bengaluru. There is a total of 180 AWSes deployed in different parts of Bengaluru Urban and 17 across Bengaluru Rural district.
Given this extensive network, the observations could help shed more light on which are the rainier, and conversely, drier parts of the city, and guide policy-making in terms of flood relief and designing infrastructure. Combined with topology maps they can provide valuable inputs on how the city grows.
What does the data say?
Bengaluru Urban district has five Taluks – Bangalore South, Bangalore North, Bangalore East, Anekal and Yelahanka. While Taluk level data has been put out by KSNDMC since 2017, Hobli level data has been made public only since 2020. Even with Taluks the information on Yelahanka has been made public only since 2020.
It also needs to be considered that since 2016, Bengaluru has been having good rain years, with 2018 and 2019 recording less than the average, but still staying within the range for normal rainfall (±20% of 855 mm).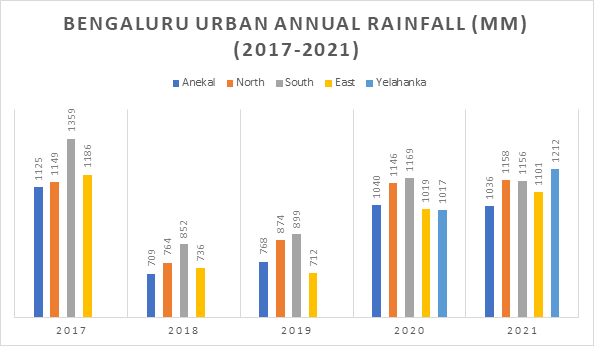 Caption: Annual rainfall in Bengaluru Urban's Taluks over 2017-2021. Src: KSNDMC
As can be seen from the chart, Bangalore South has been at the top most of the years. In 2021, even though Yelahanka recorded more rainfall, Bangalore South was not too far behind. The Eastern parts of the city and Anekal have tended to be the drier parts of the city.
It also has to be noted that South & North refer to the Taluks of Bengaluru, and don't strictly refer to Northern parts and Southern parts of the city.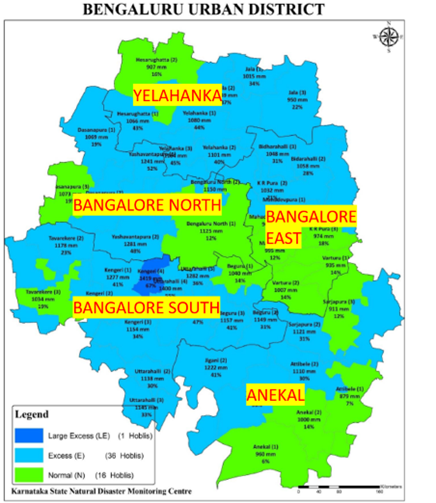 There are many theories about why this difference in rainfall is seen, and the topography of Bengaluru is thought to be one of the key factors.
To diver deeper into specific areas of Bengaluru, the wettest part of Bengaluru turns out to be Kengeri 4 Hobli on South Bangalore, which recorded 1419mm in 2020 and 1509mm in 2021. Kengeri4 Hobli is the area on both sides of Mysore Road from Nayandahalli, including where the Mysuru Road metro station is, all the way till Mailasandra. Discerning readers would note that this is along the Vrishabhavathi valley, where the river flows parallel to Mysore Road.
This year, 2022, has however shown a completely different scenario where the East of Bengaluru has received a lot more rain than other parts of the city, which has led to a lot of flooding in low-lying areas around Sarjapur Road, Bellandur and Whitefield.
Rainfall data for Bengaluru Urban over the years can be found here. Annual rainfall related data has been stored in csvs for convenient analysis.
State level data
Which is the rainiest part of Karnataka? Chances are you would say it is Agumbe, which has earned the epithet "Chirrapunji of South India". The average rainfall in Agumbe per annum is 7565mm which is the highest among all areas of Karnataka. The next is Ajekar Hobli of Hebri Taluk in Udupi district at 5802mm, which is barely 30 Km from Agumbe.
However, the past couple of years have painted a different picture. While in 2020, Honnavar got the highest rainfall of 5666mm, in 2021 it was Ajekar with a rainfall of 6085mm. In both years, Agumbe registered around half the average rainfall – 3695mm in 2020 and 4152 mm in 2021. Whether there is a trend developing where Agumbe gets displaced as the wettest place in Karnataka, only time can tell.
You can find state level rainfall data of the past two years here.